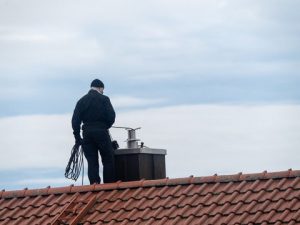 Creosote building up in your chimney is a natural by-product of having a fire in your fireplace. Yet, it can increase the risk of an uncontrolled fire in your home, so clearing it away is important. While some people use DIY methods, it's best to call for a creosote removal service from a chimney specialist. Here's why. 
Greater Efficiency
While it may seem less expensive to take on a project like cleaning out your chimney, it's actually likely to take you a lot longer than a professional, which cuts into time you'd spend on other projects or tasks. Hiring a pro to do the job in a a few hours is far more efficient than you losing a whole weekend to it.
Increased Cleanliness
As you work on the inside of your chimney, it can be messy, depending on what kind of method you use. When a pro comes in to do the job, you can be assured that it will be neater and any mess that's made will be cleaned up fully. 
Improved Safety
If you miss a spot of creosote that later leads to a fire, you'll be crushed. A professional chimney specialist understands how to make sure that all the creosote is gone so you can enjoy peace of mind when it comes to the safety of you and your family.
Do You Need a Creosote Removal Service in Bothell?
At A-Clean Chimney & Contracting, we're committed to providing residential and commercial customers with outstanding service. Our teams are experienced and highly trained on all kinds of chimneys, including wood fireplaces and chimneys, oil furnace chimneys, lined/unlined insert cleaning and creosote removal. We also provide installation, repair and home contracting services at reasonable pricing, so you can count on us for years of quality work for every chimney need you could have, including remodeling or rebuilding your fireplace as part of a home improvement project. For your free chimney cleaning service estimate, contact us today.
Prompt and Reliable Creosote Removal Service Makes This Task Easy One for Homeowners
Serving Bellevue, Bothell, Edmonds, Kirkland, Lynnwood, Mercer Island, Sammamish, Seattle, Shoreline, West Seattle & Woodinville
---
Posted on May 30, 2023 | Published by Ignite Local | Related Local Business