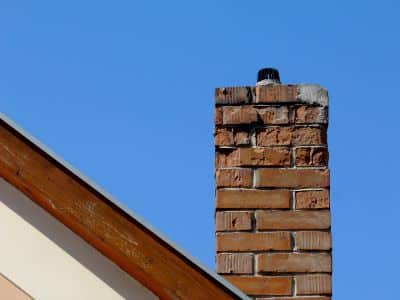 For many homeowners, out of sight is out of mind when it comes to the chimney. But if you need to rebuild a chimney, you need to act promptly to avoid more serious problems in the near future. If you notice any of these red flags, it's time to call for help.
The Chimney Leans
A tilted chimney is a sign of serious structural damage and if not fixed, could lead to a complete collapse. While chimneys are constructed to last for decades, poor maintenance could leave you with damage that's accumulated over many years and result in a loss of stability.
Mortar Is Missing
When there's nothing holding the bricks in place, they're susceptible to deterioration and even falling. The freezing and thawing cycle of water is an ongoing problem for every chimney, but when mortar is missing, that freezing and thawing can damage your chimney even faster and with greater effect.
Bricks Have Fallen
When you spot whole or broken bricks littered on the ground around your chimney, it's a huge sign that the structure may no longer be stable. In addition, missing bricks allow pests access to the inside of the chimney, and also let in wind, rain and debris. 
Are You Ready to Rebuild a Chimney in the Lynnwood Area?
At A-Clean Chimney & Contracting, we're committed to providing residential and commercial customers with outstanding service. Our teams are experienced and highly trained on all kinds of chimneys, including wood fireplaces and chimneys, oil furnace chimneys, lined/unlined insert cleaning and creosote removal. We also provide installation, repair and home contracting services at reasonable pricing, so you can count on us for years of quality work for every chimney need, including remodeling or rebuilding your fireplace as part of a home improvement project. For your free estimate to rebuild a chimney, as well as crown and rebuild repairs, flashing, liners, mortar and caps, contact us today.
Rebuild a Chimney That Lasts for Decades of Safe, Comfortable Usage in the Lynnwood Area with Our Expert Installers
Serving Bellevue, Bothell, Edmonds, Kirkland, Lynnwood, Mercer Island, Sammamish, Seattle, Shoreline, West Seattle & Woodinville
---
Posted on September 21, 2023 | Published by Ignite Local | Related Local Business